Quite fond of dabbling Tannis Kelm enjoys juggling many pies without being able to juggle, so her fingers are constantly knuckle deep. Performing as Hors., Lyer and Dick she really loves guessing at what "it" could possibly be but isn't too concerned about being right. Singing since she could scream, and courting poetry since she hit puberty there hasn't been anything in her eyes that has beat music, so she puts all her faith there and tries to offer some consolation eked from the healing solutions she's had to find herself.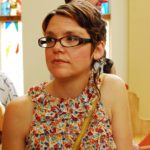 You can hear DJ Lyer on the radio in Winnipeg at CKUW 95.9FM Tuesdays from 11pm-Midnight on her show, Listening Pleasures, where she wishes she knew about the Tragically Hip before they were cool. You can catch Dick in fervent typeset at the Strong Badger Coffee House, writing articles for Cockroach Zine and Poetry for The Raving Lunatic, trying her hand at open mic comedy nights, and performing poetry at Speaking Crow first Tuesdays, 7pm at the Carol Shields auditorium in the Millennium Library. Though most frequently you can catch her at CaRaVaN Open Mic Open Stage singing like an Hors. at any of the various generous venues that have a space set for creativity and art.
Check her out on Soundcloud, Tumblr, Facebook, YouTube, Twitter, and Instagram under her various monikers or her business name Pardon Mein French, linked by a click of a button below.